FCSLA In the Community
2019 Fraternalist of the Year - Anna M. Hudok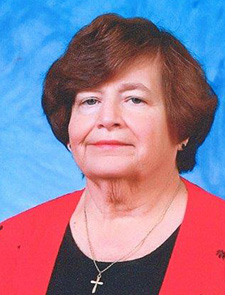 Anna M. Hudok was nominated by Magdalen I. Iskra, Secretary of Branch S-172 and President of the Magdalen I. Iskra District.
Anna M. Hudak of branch S-172 Wilkes-Barre, PA, is the Treasurer of the Magdalen I. Iskra District. She never misses a Branch or District meeting and provides very detailed treasurers' report.
This past year she served as chairperson of the District Scholarship Luncheon which honored sixteen young scholars from the Wilkes-Barre area. As chairperson she made all the arrangements for the luncheon, including creating the program and advertisement. She is a retired school teacher, and she continues to aid and assist in promoting and encouraging our junior branch members with their education. Her articles that are submitted to our Fraternally Yours monthly publication reveal her passion and dedication to FCSLA and our members.
Anna assisted with our Annual All Seasons Luncheon. She took the reservations and set up the raffle. She actively participates in many of the Matching Funds projects not just for her branch, S-172, but for the various branches in the district. She is involved with the Flag Day activities at the Wilkes-Barre VA Medical Center which includes the program agenda, BINGO, and setting up refreshments. Anna is a real team player! She also has a Restricted Fraternal License to sell insurance in Pennsylvania for FCSLA.
She is very active in St Andre Bessette Parish. She was recognized for her dedicated service at the annual Volunteer Appreciation Dinner honoring all the parish volunteers. This past year she was voted Volunteer of the Year. She is a lector, extraordinary minister of communion at the church and at Wilkes-Barre General Hospital, member of the choir, belongs to a faith sharing group in the parish and participates in all the fundraising events for the parish. She serves as coordinator of the Social Justice Council. As coordinator, she oversees the annual Mass of Remembrance, holiday Giving Tree project, Ash Wednesday Fish Dinner, Blessed Baskets at Easter, projects to benefit pro-life, visits parishioners who are homebound or reside in nursing homes and distributes food vouchers to the needy during the year and holidays.
She led the Social Justice Council as they raised funds and donated 200 pairs of socks to the veterans at the Wilkes–Barre VA Medical Center this past Christmas, sent eight care packages to U.S. soldiers in Kandahar, and provide birthday, Christmas and Easter gifts for the boys at The Bennet Home, which is a facility of the Children's Service Center. They also throw birthday parties for the boys.
Anna also volunteers at St. Vincent de Paul Kitchen and Keystone Mission where she serves meals to those in need. Anna also participated at the Multicultural Festival in Wilkes-Barre. She conducted tours of the Rev. Josef Murgaš Room at Kings College. Anna's Slovak heritage is very important to her. She serves as a board member and recording secretary of the Slovak Heritage Society of Northeastern Pennsylvania which helps her promote the Slovak language and customs. She was recently inducted into Delta Kappa Gamma, an international society for key women educators.
Anna is named after our Association's patron saint, Saint Ann, mother of the Virgin Mary. Her middle name is Mary, the patron saint of FCSLA Branch S-172. Anna has lived her life promoting the temporal and spiritual welfare of FCSLA members and members of her parish St. Andre Bessette, being a worthy and faithful member of the Catholic faith.
Anna has continuously enrolled family and friends into our wonderful FCSLA. She always abides by the Association's Constitution and the laws of the Catholic Church and the United States of America.
In conclusion, Anna never misses a Branch or District Meeting. She has dedicated her life to her Catholic faith (she attends daily mass in all kinds of weather), her church, Slovak Heritage Society of Northeastern Pennsylvania and First Catholic Slovak Ladies Association. As you can, see she is most deserving of this great honor and privilege of being awarded FCSLA 2019 Fraternalist of the Year.
Learn more about FCSLA in the Community.