Polish Women's Alliance of America:
Home | Events | Holiday Recipes | Polish Traditions | Useful Links | Archives
Events
42nd Bal Polonaise Hosted By Councils 40 and 44 of District XIV - Eastern Pennsylvania
The Polish Women's Alliance of America, part of the First Catholic Slovak Ladies Association family, from Luzerne and Lackawanna Counties held its 42nd Bal Polonaise on Saturday, April 21, 2018, at Our Lady of Mount Carmel Parish Center in Pittston, PA. Following a cocktail hour, six young ladies were presented as debutantes and danced the traditional Polonaise accompanied by their escorts. The choreographer was Bernardine Borinski Vojtko, a former PWA debutante and teacher at Wyoming Seminary. The Master of Ceremonies for the event was Dr. Christina Lopez who is a member of the Polish Women's Alliance of America and also a former debutante. Co-Chairs of the Bal Polonaise were Christine Lacomis and Ann Marie Durako. After the dancing of the Polonaise, each of the debutantes and escorts was presented with a gift by Antoinette Trela, former Secretary-Treasurer of the Polish Women's Alliance of America headquartered in Chicago and our special guest of honor. A blessing was given by Rev. John R. Siberski, S.J., M.D. from Boston, MA. Dinner and dancing followed with music by Polka Magic. It was indeed a magical evening and a good time was had by all. Thanks to the committee members for their hard work organizing the Bal, and to the debs and escorts and their families for supporting and participating in this beautiful decades-old tradition.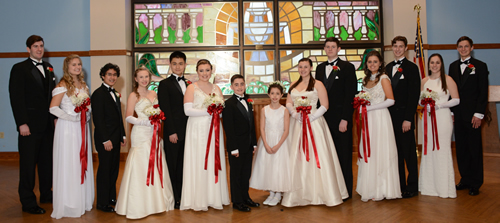 Pictured above are the debutantes, escorts, and pages, from left: Nicholas Prociak, Camryn Lee Cassetori, Oliver Lew, Abigail Marie Zaleppa, Ziming Jim Liu, Kaitlyn Amelia Lokuta, pages Christian Wojciechowski and Julia Vitali, Sarah Ann Zaleppa, Matthew Prociak, Breanna Michelle Gorski, Ryan Bella, Jocelyn Veronica Kosik, and Hunter Lacomis.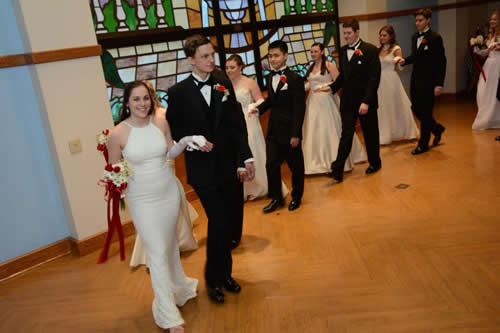 Dancing the Polonaise.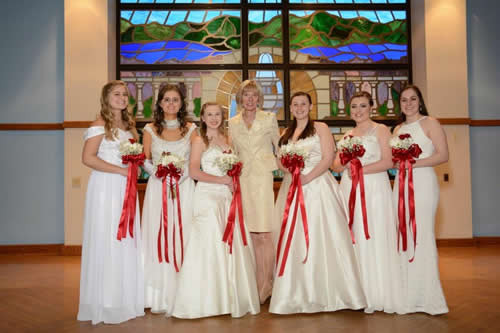 Special guest, former Secretary-Treasurer of PWA Antoinette Trela, with debutantes.