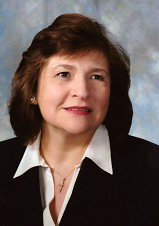 From the Desk of Our National President / CEO: Cynthia M. Maleski
We are in the awesome month of October, with its beautiful colorful horizons, glorious sunsets and changing weather. It is the month of the Rosary.
October 7th is the Feast of the Holy Rosary. In our branches we could get together on the phone, virtually or in person to pray the rosary together as one powerful voice upward together to heaven.
October 2021 marks the 40th anniversary of the founding of Polish American Heritage Month, a month-long commemoration which began in Philadelphia, Pennsylvania and has become a national celebration of Polish history, culture and pride. Congratulations to all our Polish American members!
As our Polish born Pope Saint John Paull II told us, let us walk with Mary through the joys, sorrow, and jubilations of life as we pray the rosary to present our needs to her Son.
This year we hope to be able to welcome our trick or treaters on Halloween – "the hallowed eve" of All Saint's Day, November 1st.