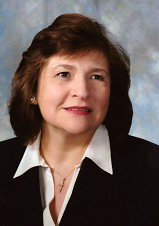 From the Desk of Our National President/CEO: Cynthia M. Maleski
Happy Founders Month in our 130th anniversary year! 
During this month of August, 2022, it is indeed fitting for us to remember with pride and love the first convention held for our beloved Zenska Jednota, in Cleveland, Ohio, where 15 delegates from Ohio, Pennsylvania, New York, Indiana and Minnesota met and mapped out our original purpose and selected our Patron Saint, St. Ann. 
Through 130 years of growth, celebration, World Wars, epidemics and hard times, as well, our core values, purpose and Patron Saint have remained the same. 
As we continue to grow in these volatile times, I ask that you, as branch officers and members, meet the challenge of growing our membership through our current Branch Membership Challenge, which runs through December 31, 2022. 
I hope you and yours continue to enjoy the summer days still ahead and are able to mark the Feast Day of the Assumption of Mary on August 15th.