FCSLA In the Community
Congratulations to Lilian Marie Lyons of Branch J011,
Saint Louis, Missouri - FCSLA's 2020 Youth of the Year honoree!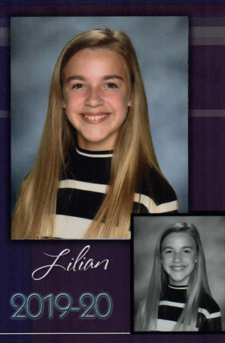 There are countless young, caring FCSLA members who participate in service projects in their branches, churches, schools, and communities. They are individuals who stand out in a crowd because of their positive attitude, achievements, and leadership. As one of those youth standouts, FCSLA is proud to announce that Lilian Marie Lyons is the recipient of the 2020 Youth of the Year award!

As a student at Nipher Middle School in Kirkwood, Missouri, Lilian organized a Recycle for Ronald McDonald Pull Tab Fundraiser where she created and distributed flyers for the event, dropped off collection boxes, and personally collected thousands of pull tabs. She also was a member of her school's "Power of One" class whose mission is to show the difference one person can make in the world. As a member, Lilian participated in writing Christmas cards and helping with a party at a center for the homeless, writing letters to seniors in a local nursing home, maintaining a food pantry, and filling Christmas gift bags for over 300 people. She also served others as a counselor at her church's vacation Bible school and assisted with the Breakfast with Santa church fundraiser.

Lilian has received several awards for her achievements and leadership. She earned the Gold N award, the highest scholastic award that can be earned at the middle school level in her school district. She was awarded a School Award Medal from The American Legion who recognized her as having its six qualities of good character and citizenship: Courage, Honor, Leadership, Patriotism, Scholarship and Service. As a Girl Scout, Lilian was earned the Silver Award, the highest honor a Cadette Girl Scout can achieve. To earn the Silver Award, Lilian had to complete a series of leadership challenges and a community service project.

Additionally, Ms. Lyons is always willing to lend a helping hand during branch events. At the annual branch Business and Holiday Luncheon, Lilian can be seen helping set up the buffet, distributing giveaways, handing out special awards to the octogenarian members, and serving as hostess along with other junior members.

Lilian is the oldest of child of Margaret (S101) and Brian Lyons. She shares the household with two younger brothers, Lukas and Lincoln, who are also members of J011. She was nominated by her grandfather, Joseph Miklovic, Branch Secretary of J001 and S101, Saint Louis, Missouri.

Congratulations, Lilian! First Catholic Slovak Ladies Association is proud to have such an accomplished and compassionate young woman as its 2020 Youth of the Year recipient. You exemplify the ideals of FCSLA in all your leadership roles, volunteer hours, and caring spirit. We wish you the best in your future endeavors!

Learn more about FCSLA in the Community.